60 Night Mattress Trial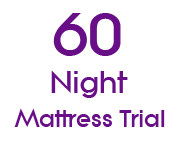 In Short:
1. Sleep on the TopSleep Memory Foam Mattress for 60 days.
2. If you don't like it ask us to collect it.
3. Once the TopSleep Memory Foam Mattress is back in our depot we activate the refund.
TERMS AND CONDITIONS:
PLEASE READ THE FOLLOWING TERMS AND CONDITIONS OF THE – 60 DAY TRIAL.
1. The 60 Day trial is given on TopSleep Memory Foam Mattresses only, when taken it will commence from the date of delivery.
2. The TopSleep™ Memory Foam Mattress is to be kept for the full 60 days, TopSleep recommend you sleep on the mattress for the full 60 nights in order to gain the full benefits.
3. Only Standard size/type TopSleep Memory Foam Mattresses are available for this trial period >>> 90x190cm (Single) – 135x190cm (Double) – 150x200cm (King) – 160x200cm (Euro size) – 180x200cm (Super King).
4. Buy Now Pay later and credit purchases excluded.
5. In the unlikely event you wish to return your TopSleep™ Memory Foam Mattress you have up to 5 working days after the 60 Days to contact us via email on returns@topsleep.co.uk – Telling us of your intention is to return the Memory Mattress,
6. Once we have official notice you wish to return the mattress, we will then arrange collection. All we ask is that you be available when the collection people arrive.
7. The cost of returning the Memory Mattress will be deducted from the refund amount due.
8. You can only return the TopSleep™ Memory Foam Mattress if it is in an unsoiled, unmarked and undamaged condition.
9. You will be responsible for ensuring the returned goods are adequately packed to protect them from being damaged or soiled during transportation – Goods must be wrapped – Packed and well sealed by yourself, we will not accept unpacked/unsealed goods.
10. When the products are unpacked at the warehouse/factory, should they be found to be soiled or damaged, the products will be returned to you to keep.
12. All returned packages must be individually and clearly marked with your NAME, POSTCODE and TRANSACTION number.
13. When a refund is due, you will be refunded less collection costs, this can vary depending on your location.
14. We endeavour to process your refund quickly, please allow up to 20 days from goods arriving back at our factory.
15. This offer includes standard TopSleep Memory Foam Mattresses only and excludes all other products.
16. In the event of dispute with regard to any contract between parties, the English courts would have jurisdiction.
NOTE: WE NEVER RESELL RETURNED MATTRESSES AS A NEW ITEM.
By accepting the delivery you are agreeing to these terms and conditions.