ARE YOUR BEDS CRIB 5 COMPLIANT?
BBC TV PROGRAMME (Jan 2014) HIGHLIGHTS DANGERS OF FIRE RISK IN NON COMPLIANT BEDS
All hotel mattresses and beds that are bought and used for commercial use must meet strict UK fire regulatory standards. These regulations go further than regulations required for a mattress or bed purchased for domestic use. The following tests represent the 'medium standard', meaning a bed or mattress can be sold as a 'contract' product – These products meet the BS7177:2008 regulations (CRIB 5).
# BS EN597-1 – Cigarette
# BS EN597-2 – Match
# CRIB 5 – BS6807
THIS WAY TO PRODUCTS AND ONLINE ORDERING >>>
All of TopSleep's products adhere to these regulations and have been specifically tested "for resistance to ignition of mattresses & toppers". This is shown by the Company's CRIB 5 logo which is identifiable across our Contract product range. Failure to adhere to these regulations by hoteliers is an offence and may lead to prosecution in the event of a fire. Also, hotels will find that their insurance is probably invalidated.
Under government legislation the following list of commercial establishments must use 'contract' mattresses and beds (i.e. those which have been tested and meet BS7177 standards):
 Hotels and Guest houses
 Bed and Breakfasts
 Hospitals
 Residential Schools / Universities
 Hostels
 Care homes THIS WAY TO PRODUCTS AND ONLINE ORDERING >>>
Unfortunately, a large number of smaller hotels, B&Bs and other commercial establishments in the UK are still buying their beds and mattresses from regular furniture outlets which, apart from the risk of being non-compliant to safety regulations, may well invalidate their insurance and this is a major concern to reputable companies like TopSleep Limited who are pushing the campaigning to raise awareness of this issue featured in the BBC1 Prime time programme on Monday (13th Jan), Fake Britain – Furniture Inferno?, highlighting the necessity of the industry to get to grips with the problem.
"We did all our rooms for under £2,000 – 50% of this already recovered with the in-house promotion GREAT. Philip & June B & B owners – Manchester"
Don't delay, act today:
TopSleep can supply you with Contract mattresses & toppers at realistic prices. Investing in Top Sleep mattresses and toppers you are investing in your clients comfort and well-being and,  we have a program whereby you can offset the cost of buying your TopSleep products.
This is done by some subtle marketing of the SLEEP products your clients are using while staying in your establishment: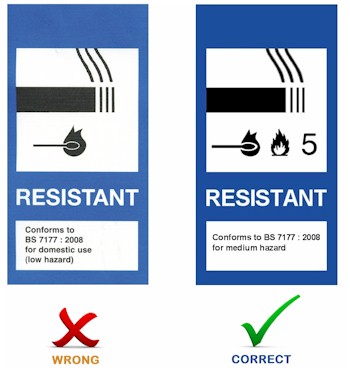 TopSleep could supply you with a small flyer and/or website banner plus a unique Promo Code normally your post code, each time a client buys using your code you get 10% of the total spend, an average spend being £500:00 = £50:00 paid to you as a commission.
So over a relatively short period of time you should recoup the cost of products and move into profit, most establishments also hand the small flyer out with the bill when clients check out.
Of course this is just an option (Tick the box when ordering), a way of regaining your outlay on quality SLEEP products. You could go elsewhere and purchase contract mattresses BUT ~ will your clients rave about the great night's sleep they have just had and come back time after time, plus recommend you to others?
Cutting corners on one of the key elements of your offering, THE BED, is not a great idea if you wish  your clients leave happy and rested.
So, whether you like the idea of our subtle SLEEP promotion (Tick the box when ordering) or just like the idea of offering a great night SLEEP in your establishment, our TopSleep Contract SLEEP range is here waiting for you to order, we look forward to your order online or over the phone very soon.
CONTRACT BUYERS DISCOUNT TABLE.
# Total cart value £200+ = 5% off
# Total cart value £500+ = 10% off
# Total cart value £1000+ = 12% off
# Total cart value £1500+ = 14% off
# Total cart value £2000+ = 15% off
If you don't see a Coupon code on the product pages give us a call to discuss on 07971 627131